Team
John Lim
President
As President, John directs our team of technicians in support cases, new project planning, and research and development. Prior to this role at Innovative IT, John spent 10 years as CTO of TekTegrity, (parent company of Innovative IT from 2015-2018). When Innovative IT was acquired by TekTegrity, John instantly found a passion in the small section of the company dedicated to providing connectivity to affordable housing residents.
After Innovative IT became autonomous again in 2018, John took on the role of president, eager to grow the program with this mission in mind. His sense of humor and adaptive personality makes his leadership invaluable to our team of techs as they do what they love: work with cool tech while contributing to a greater good. >>
Additional Certifications:
CompTIA Customer Service Excellence Program
Certified Citrix Service Provider
---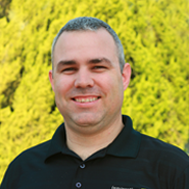 James Goad
Resident Internet Manager
James has wisdom so beyond his years that he began getting gray hair at 16. A US Marine Corps Veteran with 12 years of IT experience, James brings discipline and experience to his role as RI Manager where he handles field requests and requirements, and directly manages Innovative IT's Resident Internet maintenance programs. He also holds a C7 Contractors License for Law and Trade.
James is active in his church where he volunteers, and enjoys spending time with his wife and twin daughters.
He also plays softball and juggles, but not at the same time (that we know of).
---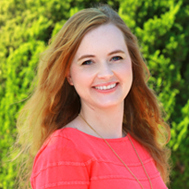 Meghan Joy
Account Specialist
Meghan holds a Bachelor of Fine Arts in Entertainment Art and an Associate Degree in Health Information Management. At Innovative IT, Meghan helps keep the executive staff above water by handling scheduling, office projects, account management and just by being incredibly helpful and positive.
Meghan has mad organizational skills, but at heart, she has the soul of an artist. She loves to draw and paint, and consume large volumes of "corny" romance literature. Meghan may also be the one of the most adorable people you have ever met. And when paired with her new sidekick, a kitten by the name of Angus, the combined cuteness may actually be fatal. You have been warned.
---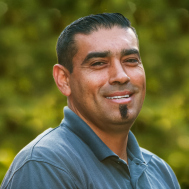 Fernando Villalobos
Field Supervisor
Fernando has a degree in Telecommunications and has been in the telecommunications field since 2000. He started his telecom experience working on big projects in Orange County and Los Angeles and has enjoyed all of the ups, downs and loops that the telecom ride has to offer and looks forward to many more rides filled with adventure and learning.
Fernando likes fishing, gardening and just enjoying his life. He also has a passion for music and dreams of producing and creating his own music one day. He already has 5 die-hard fans; his wife, three sons, and baby daughter, so clearly he is off to a good start!
---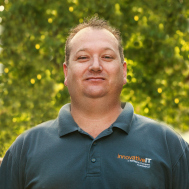 James Selvog
Network Cable Technician
James was raised in Hollister California where he graduated San Benito High school in 1995. It was then that James found he had an affinity for electronics and began working as an apprentice electrician in San Francisco while attending school in his time off. James moved to Fresno in 1999 where he has continued to work as an Electrician and Technician. James is a Journeyman Electrician, holds an Associate's Degree in Criminal Justice and is CPR and First Aid certified thus making him one of the best people to have in your corner in the event of a zombie apocalypse (which is only one of the many reasons why James is a perfect fit for the Innovative IT team).
When not laying cable, James enjoys fishing, camping (just to add a few more survival skills to the roster), traveling and chilling at the beach.